The Happy Little Farm Project Expands in Havana Neighborhoods
HAVANA, Oct. 19th Without any institutional funds, community project Granjita feliz (The little happy farm) is run with its own resources and support from independent business owners,
taking the knowledge and (especially) joy to the capital's children and handicapped.
It was born in 2011 in a neighborhood of Guanabacoa on the city's outskirts, stemming from a rabbit breeding business, which has spread in productive and social terms.
Elizabeth Frometa and Luis Dario Martos created the project, which started off with exchanges about how they bred rabbits in the limited space of their backyard with hanging cages, and workshops for children living locally.
Growing and multiplying
"We can't all have a great deal of space or a large backyard, but we can all take advantage of the little space we do have, even balconies," Frometa told IPS Cuba.
Granjita feliz, Martos went on, continues to be a project about rabbit breeding, compost and liquid fertilizer production, some quails, but it also now includes five ground bee hives: melipona bees.
"We promote planting strawberries in pots. Today, more than 300 people have strawberry plants growing in flowerpots in their home "farms", which they received through Granjita feliz," he emphasized.
"It's a very beautiful project because of everything it entails. We encourage everyone to take part: their small productive spaces are valuable within the community and the city," Frometa weighed in.
The project runs different initiatives, including the Sunday Guateque cultural space; the Estoy contigo (I'm with you) event, which takes place once a month in old people's residences; and the Unidos por ti  (United for you) event.
According to Martos, the latter is the result of farmers' and the self-employed's love, who donate food to families with children who suffer health problems. The project has spread to the Regla, San Miguel del Padron, and Cotorro municipalities.
"Extraordinary love goes into this activity, which recently celebrated its 5th anniversary, farmers donating a food basket over 60 consecutive months," she pointed out.
Granjita also runs an agricultural biodiversity workshop and organizes cultural activities, at the Iglesia de los Escolapios' patio, which this institution has made available.
"There, at the El Garabato vegetable garden, children and people with mental, physical and sensorial disabilities, plant their plants, prepare the earth, dig flowerbeds, put in compost, fertilizer and water, learn to plant, to fill bags with earth and everything they grow is for their own consumption," Martos explained.
He said that this harvest has given participants fresh tomatoes, chard, lettuce, parsley, oregano, chive, eggplant, radish, green beans and spinach, as well as spices and medicinal plants, which they themselves and their families plant.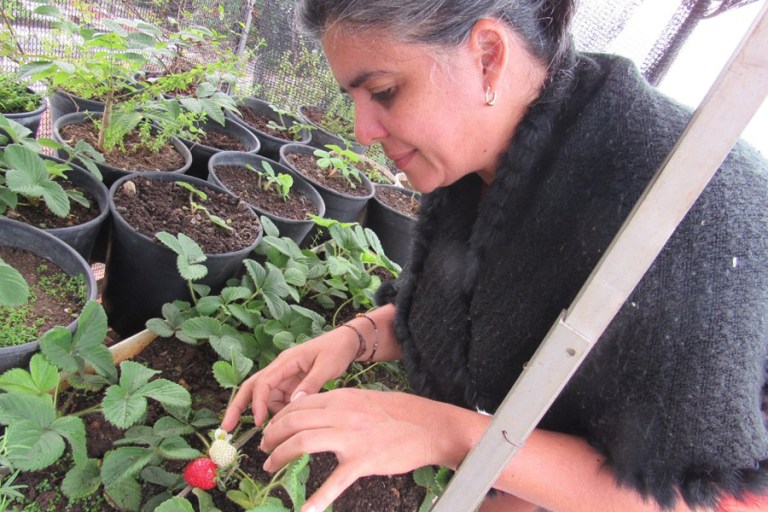 Autonomy
According to Martos, the project doesn't receive any institutional funding.
"We finance it in part with our rabbit breeding, arts, and crafts, planting plants and selling strawberry runners, which bring in revenue for the project… which is autonomous," he explained.
"Farmers donate their produce, there are independent workers who cover transport costs for these products or they pay for fuel so that somebody else can move them," he pointed out.
Granjita feliz also holds debates, workshops and science societies at schools of all levels, where they teach rabbit breeding, quail breeding, how to plant strawberries and medicinal and aromatic plants.
Meanwhile, they run arts, dance, oral storytelling workshops, as well as recycling arts and crafts workshops so that plastic packaging, paper, cardboard, and some metals can be turned into ornamental objects such as flowers, bees and birds.
The project organizes two national competitions, one to spread the knowledge of Cuba's National Hero, Jose Marti (1853-1895), with five editions in the past, and another in homage to late researcher Adolfo Rodriguez (1945-2017), which has had 451 participants from eight provinces taking part in the past three editions, presenting artworks, literature and crafts.
https://havana-live.com/wp-content/uploads/2019/10/La-granjita-feliz_granjita-3.jpg
600
900
Havana Live
https://havana-live.com/wp-content/uploads/2018/09/logo_havana.png
Havana Live
2019-10-19 18:18:43
2021-10-04 18:25:51
The Happy Little Farm Project Expands in Havana Neighborhoods