HAVANA, July 8th The Fire Festival is going on in Santiago de Cuba, considered "the most Caribbean city" in the island, aimed to celebrate the Caribbean people, its culture and history, and to exchange ideas and experiences.
The festival is taking place between July 3 and 9 and it will include several musical and artistic events, ceremonies and workshops on traditional religions and conferences. More than 700 artists and intellectuals from 26 countries are attending the event, this year dedicated to the "Enchantment Island" Puerto Rico.
This is the first time in its 38 years the festival is also being celebrated outside of Santiago de Cuba, reaching other near-by municipalities. The streets are filled with music, dancing and air of festivity and unity of the Caribbean peoples.
The inauguration ceremony took place at the Heredia Theater on July 3. The theater was named after Jose Maria Heredia, one of the most important Cuban poets who was born in Santiago de Cuba.
The festival includes several celebrations, including the opening Serpent's Parade with drums honoring the Yoruba deity Eleggua, which believers call to "open the way" for religious festivities.
On July 7, the people of Santiago gathered in the village of El Cobra for the Untamed Homage, a celebration honoring the slave rebellion in the island.
The monument is located right next to the Virgin of Charity Sanctuary and the ceremony was one of the most significant moments of the festival, full of strong symbolism and resistance.
The Puerto Rican salsa singer Andy Montañez, a former member of the Gran Combo de Puerto Rico, is one of the special guests this year. 
Montañez will perform on Sunday's night along with his band Los Karachis.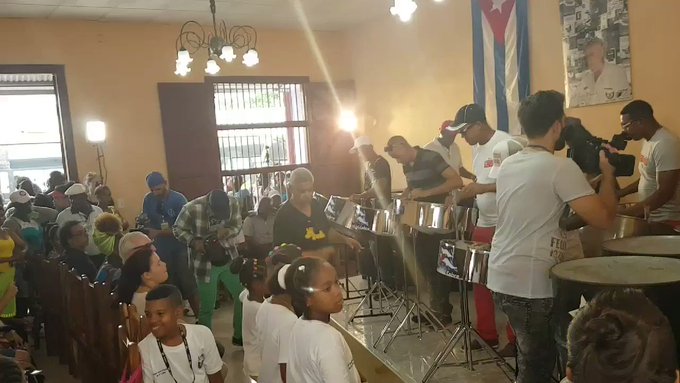 Several issues were discussed during the conferences, including the common history of the Caribbean people and the current situation of capitalism and modern slavery, as well as the economic situation of Puerto Rico after it was hit by Hurricane Maria and migration to Florida.
As part of the festivities, the historian and Santiago de Cuba's prodigious child Eusebio Leal was honored for his life's work.
In the past, personalities such as Fernandez Retamar from Cuba, George Lammin from Barbados, Juan Bosch from the Dominican Republic, Thiago de Mello from Brazil, Gabriel Garcia Marquez from Colombia and Rex Nettleford from Jamaica have taken part in the festival.
And Sunday's program will be full of activities such as the Bartolo's Banana Plantation Campesino celebration; the Haitian Great Gaga; the Ode to Yemaya at the Juan Gonzalez beach; and the Mpaka Loading, which has become a landmark of the Caribbean festival.
On the last day of the festival, the city's center will be taken by the Fire Parade, from the Cespedes Park to the La Alameda Av., where participants will carry a "collective exorcism" known as the Burning of the Devil, getting rid of evil and paving the way for the next year's festivities.
(www.telesurtv.net)